Once you've logged into your TicketSocket site, you can start creating events! First you'll want to select Events from the left menu, as shown below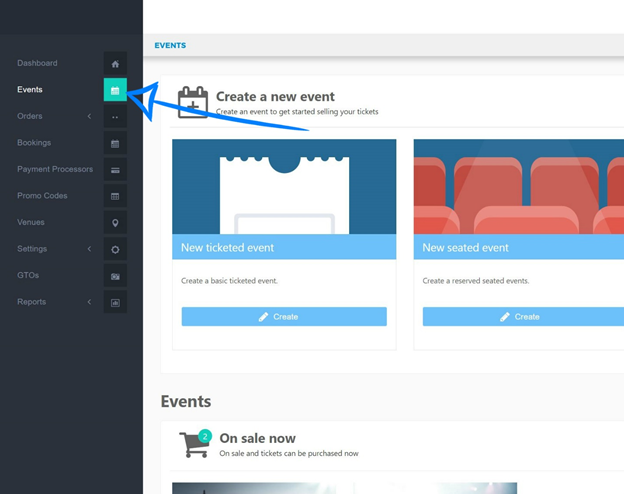 Once you click Events you'll be taken to the Event List. Here is where you create events and where any events you've already created will be displayed.  To begin creating an event you'll need to consider your event's ticketing needs and select the appropriate event type
Ticketed Events are generally one-time events that do not have seating needs.
Seated Events are ticketed events that adhere to a seating chart – these events are usually venue-specific, like those at a sports arena or in a theater.
Booking Events are recurring events, such as an historical tour or shows at a comedy club. A booking event allows you to create an event and a schedule for that event by selecting the days and timeslots upon which the event occurs.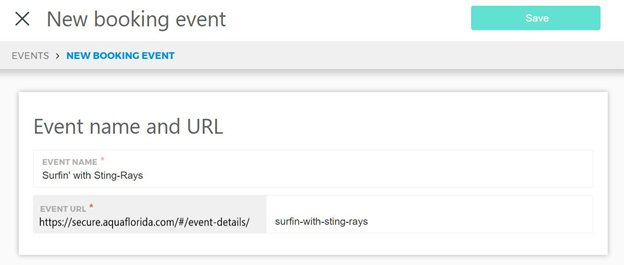 After selecting the type of event you wish to create you'll start entering the specifics. At the top of the event creation screen you can name your event. You can watch as the platform auto-populates your URL in real-time.
Beneath the Event name and URL portion of event creation the Event Settings can be found (pictured above). Your event's total capacity can be set here, which works as a sales cut-off once the number of tickets sold meets the capacity set here. A general admission concert is a prime example of an event that benefits from a limited capacity, since there is likely not seating, so the building's occupant capacity could be entered here to avoid overselling and having to turn anyone away.
The Recurring and Seated toggles are set automatically depending on the event that was selected to be created, but these settings allow for even further functionality – if, for instance, a ticketed event did really well and the event organizer wanted to make it recurring it's as simple as shifting the toggle to the right and creating a Schedule. If a recurring general admission event must change its' permanent venue to once that has seating – it's as simple as toggling the Seated option.
Creating a Venue
After selecting the time zone for your event a Venue will need to be selected or created as well.


A drop down will appear where you can plug in the venue's details along with some more unique settings: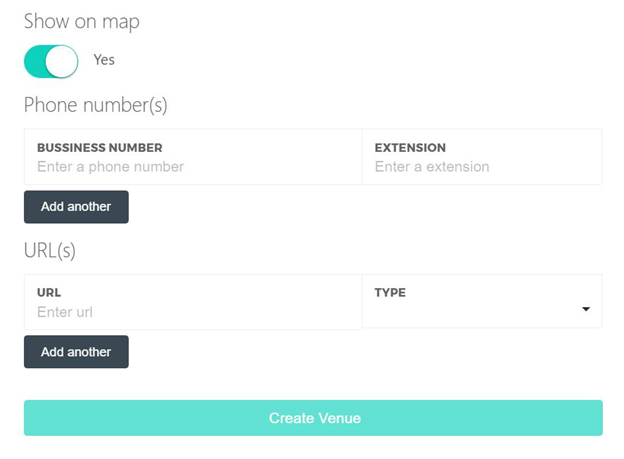 Our platform uses each venue's address to render a map on each event page – a convenience that can be easily toggled during creation. Additionally, a user can enter a venue's phone number and webpage URL (as well as social media accounts) so that ticketholders may peruse the venue, call about parking, look at future events, etc.
Once you've filled out the venue's information click Create Venue – this can all be edited later as well. You'll be returned to your event creation page.
Start Dates: Sales and Events
At the bottom of your event creation page are the Event start date and Sales start date settings.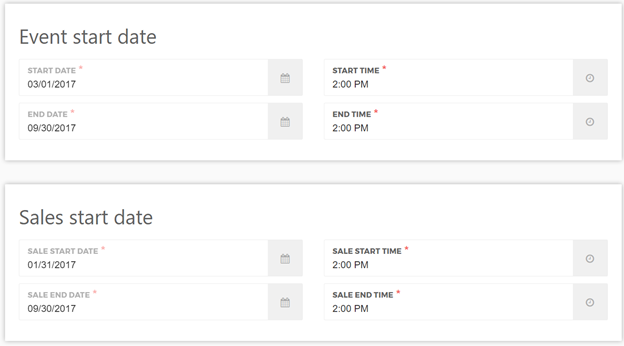 For a ticketed event the Event start date and Event start time should be set to the instant the event begins. With a booking event, however, this date range (as seen above) will span the entirety of a recurring event's duration. The second set of date options, the sales start and end dates, define when tickets will go on-sale and when they will no longer be sold.
Save! It's important that after all an event's details are transcribed that the user select