Once the rough event details have been entered and Saved the user will be taken to a new screen – which has been fully tooled to serve any event organizer's needs: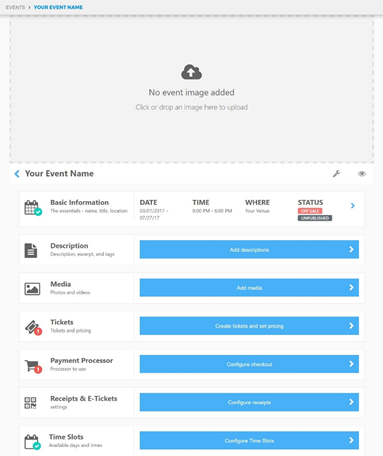 Event Image – the web-ready image you upload here (either via drag-and-drop or by browsing your hard-drive) is what is displayed prominently at the top of the event page. Once an image has been uploaded it can be changed in the Media section below.
Basic Information – this is where all the information entered when creating an event is stored. Selecting this option will let you edit the event's Date, Time, Location, On-Sale status, etc.
Description – these settings allow the event creator to add a text description to the event page and a smaller excerpt on the event list which will appear underneath.
Media – upload a List Image (also referred to as the Event Image) which will display on the event selection page as well as at the top of that specific event's page. Photos can be added and will be collated into a gallery that will appear below the event's description. Videos can similarly be added and embedded. For more information about site media and event descriptions please refer to Site Appearance.
Tickets – here is where an event's ticket types and ticket tiers are managed. For more please refer to Ticket Creation and Management.
Payment Processor – select the merchant account that will handle this event's transactions.
Receipts & E-Tickets – add E-Ticket and/or receipt text that is specific to this event. Additionally, a user may choose to force the default receipt settings (and the receipt text that accompanies it) or add BCC email recipients for a specific event. For more please refer to The Check-out Experience.
Time Slots – time slots are the daily start/end times for ongoing event bookings. For more please refer to Time Slot Creation and Management.