To import tickets within the system, navigate to our Bulk Importer:

> Select Orders on the left pane
> Select Bulk Change from the drop-down

Choose if you are updating existing tickets or importing new tickets and then choose the .csv with the orders you would like to import.

Importing New Tickets
If your .csv file has headers (first name, last name, etc.) please check the "Skip the first row" checkbox so that those values don't get uploaded alongside proper orders.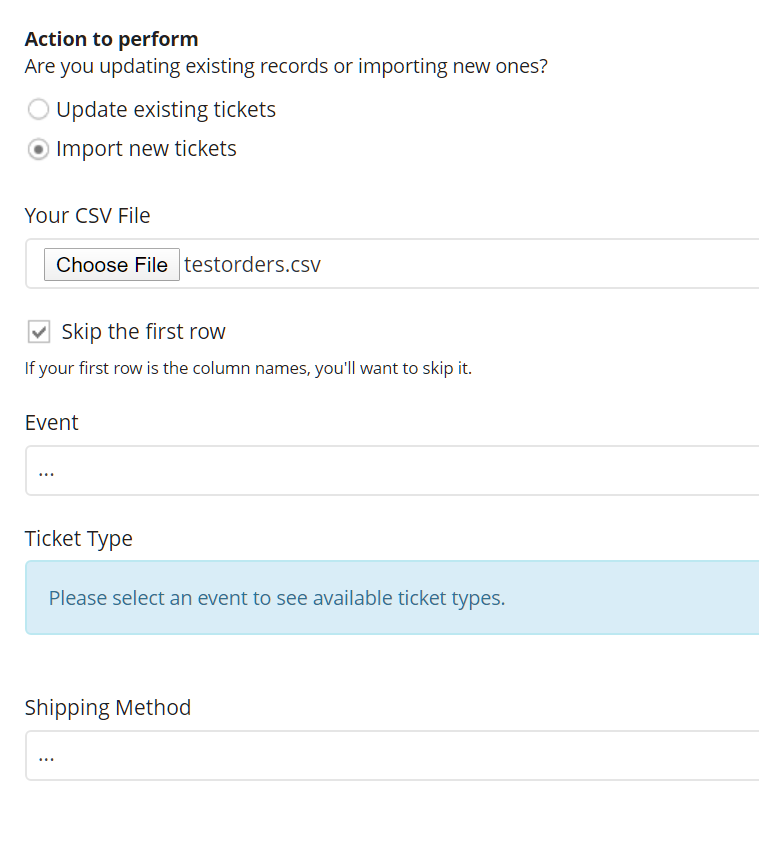 > Select the event you'd like to import tickets for
> Select the ticket type you'd like these tickets to be (Note: if an order import spans several ticket types, .csv files will need to be made for each ticket type)
> Choose a shipping method for these imported orders

Select "Continue" when your event, ticket type, and shipping method selections have been made. You will be brought to Step 2.


You will have to choose how the system interprets the data from each column. Select that import field from the drop-down next to each .cvs column, or choose to ignore that column by checking the "Ignore" checkbox. Select "Confirm and Import" when everything is set up to your liking and the import will take place.

Updating Existing Tickets
The only difference between creating new tickets and updating existing tickets is that to update existing tickets a column of barcodes must be uploaded. These numerical barcodes must match the barcodes in the system for the import to update them correctly. Additionally, barcodes must comprise the first column of the csv you upload.


If a .csv file was created outside of the system and was used to create tickets, that .csv file can be adjusted and used again to update those tickets. A .csv file can be created from within the Find Orders area of the back-end as well.